Friday Favorites – Mid-June
Friday Favorites – Mid-June
Happy Friday! I haven't been up to anything interesting this week (work + being sick), so no big intro, just this week's list of favorites!
1. Rain, Rain, Rain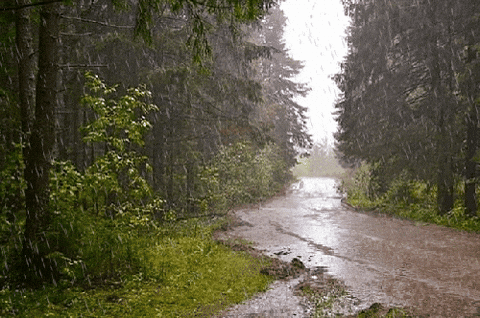 The AC in my house doesn't work, so despite fans and white curtains to keep the sun out and basically everything else I can think of, the temperature in here usually hovers in the mid to upper 80s. As a result, I get SO EXCITED any time it rains lately! A storm last night dropped the outside temperature from 93 to 73 in the course of like 90 minutes, and there was enough wind that the cooler air was able to get into the house and actually cool it off. HEAVEN. I've been looking at one-room air conditioners like this one on Amazon, but I just don't have a spare $300 right now, so I'll just keep hoping for rain!
2. True Facts
I came across one of these on Facebook and lost a large chunk of time binge watching them. Here are a couple to get you started:

(I am calling armadillos "Turtle Rabbits" from now on, btw.)
3. Y'all know that Chewy Box day is my cats' favorite day:
So, here's something embarrassing – we got a 24-pack of the Purina Pro Plan True Nature Ocean Whitefish & Salmon Grain Free cat food this month for the #ChewyInfluencer program, and I just realized that I forgot to take pictures of it, and the cats have already eaten it all. Huge blogger fail.
Let's just pretend that I took this photo instead of stealing it from the product page! Check out my mad photo skills!
An embarrassing amount of scrolling through my iPhone photos going "Where are the Chewy pics?" aside, these went over quite well with the meowers. They're grain-free, made in the USA, and free from artificial colors and preservatives. My cats usually aren't big pate fans, but they do love fishy-flavored things, so I think that won out here.
In good news, I do still have one can of the other food we got this month, so I'll have actual photos next week! WOOT!
4. I think I've mentioned this before, but the GoodRX app is SUPER handy. Most doctors seem to have no concept of what prescriptions cost, which gets annoying. The last time I asked my doctor to please make sure my Rx was affordable, I got to the pharmacy and found it was $55. LOLNOPE.
On Tuesday, I had an infected tooth so painful that when the dental assistant BARELY grazed it with her fingertip while taking an x-ray, I jumped about a foot and immediately started sobbing. (Of course, I also managed to get the hottest dentist ever, which is totally what you want when you're gross from crying and generally looking terrible because you don't feel well.) Anyway, he had to prescribe antibiotics and I was able to pull out my phone on the spot and make sure that the one he picked was something I could actually afford. They had actually stayed late to see me, so I knew that if I got to the pharmacy and couldn't afford whatever they picked, there was no hope of calling over to request a change, so I wanted to be sure we were cool before I even left the chair.
The app also provides coupons and shows prices for the pharmacies near you. This isn't sponsored, btw, just trying to save y'all some dollars. On a side note, does anything in the world taste as horrible as Clindamycin?? I can't swallow pills so I have to open the capsules and dump the powder into a tiny bit of coffee (the bitterness of the coffee is the best thing I've found to mask the awful taste) and it's just blechhhhhhh. It's 2018, why don't we have gummy antibiotics yet?
5. It's 3 p.m. on Friday and I still don't have a #5 for this list, so… ¯\_(ツ)_/¯
Have a fantastic weekend!
*