Show Us Your Books – June Edition
Show Us Your Books – June Edition
I can't believe it's already time for June book reviews! I know it's a cliche, but this year really does feel like it's flying by. The background of this month's graphic is a pic I took at Lake Leatherwood in Eureka Springs last week, btw. I stopped by briefly and it was so pretty that I'm dying to go back! If only the temps would drop from 90-ish so I could go hike without passing out!
But back to books! I didn't finish many this month. I'll catch up on that elusive Netgalley backlog one day!
Behind Her Eyes by Sarah Pinborough
I requested this from my local library after multiple bloggers raved about it a month or two ago. I seem to be in the minority in that I didn't totally love it, just kinda liked it. I feel like the end ruined it for me, mostly because when it comes to thrillers I want to have an "OMG, that makes so much sense, I totally should have figured that out!" moment when the twist is revealed, not a "Well… that's out of left field" moment.
The Currency of Love by Jill Dodd
Even though it touches on some heavy topics, this falls into my "fun read" category. The author shares her story of falling into a modeling career in the early 80s, and the journey she took from naive girl form an abusive household to living a life filled with excess. As you'd probably expect from a memoir by a non-writer, the writing style isn't amazing, but it's really not bad, either.
It's interesting to "see" the extravagant culture of that era through her eyes at the time. There's a naivety that I just don't think you'd see from a 20 year old girl today, from wondering if she should become a coworker's girlfriend after he rapes her to seeing the gaudy Trump-like displays of wealth we'd consider tacky and gross today (think Las Vegas hideaways decorated with elephant tusks, buying fox fur coats, etc.) from a perspective of actually finding them impressive.
I was born in the early 80s, so it was fascinating to compare the modeling photos included throughout the book with what ads look like today. Photos that were the height of chic and magazine cover-worth at the time are now something we'd delete immediately or run through half a dozen edits and filters before posting. That sounds like I'm dissing her appearance, which is totally not what I mean here. More that it's an interesting look at how beauty standards change with time. I'm sure if you look back at current magazine covers in 30 years, you'd think "THAT was fashion? Kardashians were considered attractive? WEIRD."
Overall, a fun book to get lost in for a few hours as long as the abuse stuff isn't triggering for you. I know I talked more about the negative aspects of the author's experience here, but there's also lots of travel, living in Paris, etc that make the tone much lighter.
(I received this book from the publisher via NetGalley in exchange for my review.)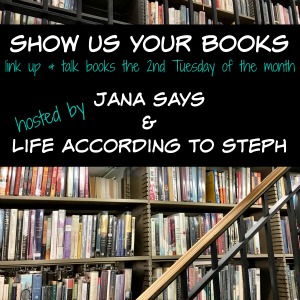 Head over to Life According to Steph and Jana Says to check out what dozens of other bloggers have been reading this month! (Not my fault if your to-read list grows by a million titles, though!)