Show Us Your Books – August Edition
Show Us Your Books – August Edition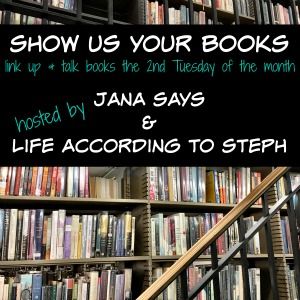 It's Show Us Your Books day! As usual, I procrastinated writing this post until WAY too late, so I only had time to write about 2 of the books I read this month. Someday I'll catch up!
(Amazon links are affiliate links which will award me with bright shiny pennies if you buy stuff through them. Goodreads links are NOT affiliate links, because as awesome of a website as they are, they do not seem to care that I am very very poor, and thus do not shower me in money when you click stuff. Meanies.)

Behind Closed Doors by BA Paris
"Everyone knows a couple like Jack and Grace: he has looks and wealth, she has charm and elegance. You'd like to get to know Grace better. But it's difficult, because you realize Jack and Grace are never apart."
Aggggh, this book, you guys! I read it all last night, so I haven't had much time to digest it. Given that I read it straight through in a few hours, I obviously liked it, but I didn't love. It comes out today, so I had an uncorrected advance copy, but the writing was great. Once it gets started, the pace never really lets up, so be prepared to find it tough to put down. I never really read thriller genre books because they stress me out so much, but something I read about it compared it to Girl on the Train and Gone Girl, both of which I loved (obvs), so I requested it anyway. It's a very different style of storytelling than those two. There are definitely disturbing elements, but nothing graphic. I think the main thing that keeps me from loving it is exactly what I mentioned above – after pretty much the first chapter, the tension never lets up. There's eventually a climax to the action of the story, but the tone of that section is pretty much the same as the rest of the book, which is a little…unsatisfying? More variation in intensity might have helped make it a more enjoyable ride, vs the "AHHH, I need to finish this!" sprint I went on. Still, I have a feeling everyone's going to be talking about it, so maybe make it your last beach read of the summer ?
(Thanks to Netgalley, who hooked me up with the free advance review copy)
Think by Lisa Bloom
Amazon * Goodreads
I grabbed this book when I spotted it at the library because as a MSNBC addict, I'm familiar with Lisa Bloom and already kinda loved her. The book is an examination of the culture in the US that has evolved in which women are rewarded for focusing on appearance vs intelligence. She sites a study that found something like 20% of women said they'd rather win America's Next Top Model than a Nobel Peace Prize, and mentions how it's common to comment on how pretty a little girl's dress is rather than to ask her what she's been reading lately.
I loved the section where my beloved Angelina Jolie is used as an example, how despite over a decade of intense humanitarian work, most people still know her for "stealing" Brad from Jen, or as a MILF. No, seriously:
Sorry for the wonky text on that 2nd one. Wasn't planning to post the book photos, but got lazy.
The obvious problem with the book is that the person who is apt to pick it up is already the type who values intellect over the superficial. (I mean, as I mentioned above, I was drawn to it because I'm a cable news nerd.) Maybe it would be useful if quietly left on in the bedroom of a teenage daughter? Not quite sure what would best get it into the hands of those who would most benefit from the message.
Oh, and she gets bonus points for RT'ing me.
(We should keep some kind of running count of how many of my blog posts Chris Hayes shows up in. Probably 79%)
Be sure to visit the Show Us Your Books linkup to see what other bloggers have been reading this month! I assume that everyone but me has now read Harry Potter and the Cursed Child, so I'm off to hop around the linkup and see what's being said about it. (And maybe some other books.)
Have you read anything awesome lately?